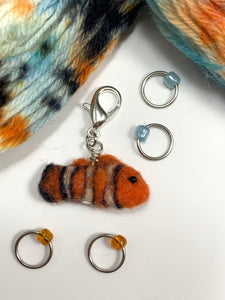 Limited Edition: Clownfish Felted Stitch Marker Sets
Our most detailed miniature creation yet, this Clownfish stitch marker set is a part of the Curiously Wild collaboration with The Pinecone Project.  Being lightweight, they don't weigh down your projects or go far when you drop them.
Always losing your stitch markers?  Upgrade your stitch marker set by adding a stainless steel adjustable bangle and we will package them together as a set.  
Read more about Curiously Wild here.  This is a pre-order. Turnaround time is approximately 1-2 weeks from date ordered.