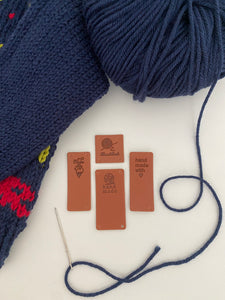 Handmade Tags (4 pack)
These "handmade" label tags are made of high-quality, non-toxic, durable PU faux leather, with clear printing on the soft surface.  Easily affix them to your finished objects by sewing through the convenient holes provided to elevate your hand-crafts. No need to worry about them sliding off – they'll stay securely put, letting you show off your incredible work with pride!
Each set includes one of each of the 4 designs - two tags that are 5x2cm, and one each of 5x2.5cm and 2.5x2.5cm.