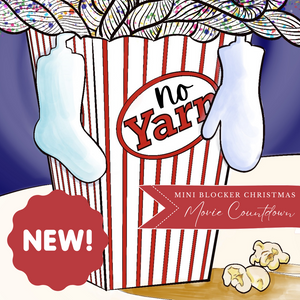 Mini Blocker Christmas Movie Countdown Advent Calendar
Looking for a stitchy holiday countdown without the yarn?  Look no further than our Mini Blocker Christmas Movie Countdown Advent Calendar, featuring miniature sock and mitten blockers by Bear Valley Fibres, plus extra goodies, too!  On December 1st, grab the included patterns and some sock yarn, snuggle up and knit your mini sock or mitten while watching the inspiration movie, ready for the blocker the next day! 
You don't want to miss this festive extravaganza!

Each day's gift will be individually wrapped, numbered and ready to open.  

The blockers: Each miniature sock or mitten blocker is 3D printed out of 100% PLA in small batches in Ontario by Bear Valley Fibres.  The blockers measure roughly 3" from top to bottom.  
The patterns:  Each calendar will come with a printed copy of the "Movie Snacks Mini Mitten & Socks" pattern.  Designed by Rachel Ewen of Bear Valley Fibres, these bite-sized patterns will have you well on your way to making your collection of knitted ornaments!

The movies: Each blocker is themed for a particular movie.  Your Mini Blocker Christmas Movie will come with a random assortment of colours, each inspired by one of the below festive films.  The movies may not be in the same sequence as the full advent calendar.
Rudolph the Red-Nosed Reindeer
Frosty the Snowman
The Santa Clause
Polar Express
Home Alone
Santa Claus is Comin' to Town
Dr. Seuss' How the Grinch Stole Christmas
A Charlie Brown Christmas
The Muppet Christmas Carol
National Lampoon's Christmas Vacation
The Nutcracker Prince
Miracle on 34th Street
Note: There is NO YARN in this countdown calendar.